On Thursdays, we read reviews or news stories about art or design and study the language used in them. This week's article is about photographer Daniel Mercadante.
Here are the first three paragraphs from Colossal, in italics.
Daniel Mercadante has a slate of unique films under his belt, made in partnership with his wife Katina, as The Mercadantes, including Ball and Breathe. More recently, Daniel has been exploring the still image in a colorful series called Rainbow Road. The Mercadantes were based in California for many years, but after a move to rural Connecticut, Daniel looked for a way to add some warmth to the chilly blue hour during the Northeast's long winters.
Using long exposure photography and a  custom built lighting rig covered in colored gels, the process of creating the images is surprisingly simple: the roads are created by Daniel running around with the lighting rig. No other post-production manipulation occurs, other than basic color and exposure balancing. The photographer explains to Colossal, "after so many years focused on the moving image, I've struggled with singularly caught moments in still imagery—so I love how this project still requires images to be captured over 15sec-1 minute, so in some way they require the same passages of time that a shot in one of our short films might."
In addition to their Connecticut Rainbow Roads (which Daniel divulges may have a distant relation to the Mario Kart pathways of his youth) the Mercadantes have taken this colorful project to Guatemala, where local kids chose the photo shoot locations. Daniel reports that they hope to continue traveling with their low-tech, high-color Roads. You can see more from the Mercadantes on Instagram and Vimeo.
---
My comments:
In the first paragraph, we learn that Daniel Mercadante and his wife Katina have made many films together using the name The Mercadantes. Ball and Breathe are the names of two of their films. Next, we learn that Daniel has started working with still images (photographs) in addition to film. The photo above comes from the Rainbow Road series. We learn that the Mercadantes lived (were based) in California for many years, but now live in rural (near a small town, not a city) Connecticut. In the last sentence, the writer talks about the blue hour. During the blue hour the sky has a deep blue hue with a cold color temperature and saturated colors. (See diagram below.) The writer is saying that because this new place, Connecticut, was colder and darker than California, Daniel wanted to find a way to make the winter environment seem warmer during the blue hour.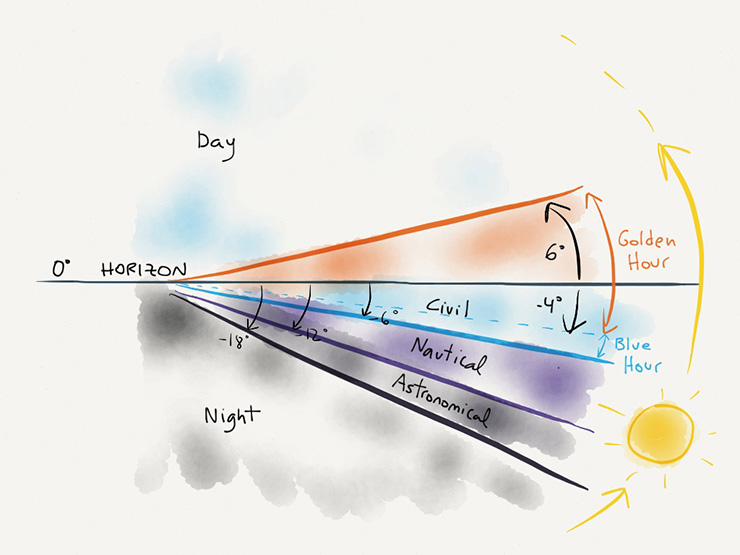 In the second paragraph, the writer talks about long exposure photography, which means a photo that is taken with the shutter open for a long time. We learn that the artist created a custom built lighting rig covered in colored gels to take these photos. A lighting rig is a structure that holds lights, and colored gels are small pieces of plastic that are used to make the light different colors. These are often used on stage or in concerts. Post-production means making changes after (post) the image is produced or made. So Daniel doesn't do anything to change the photos after he takes them, except to balance the color and exposure. In his quote to Colossal, he explains that it was difficult for him to make the change to still images after working with moving images in film for so many years. This project is a good balance for Daniel because the photos are exposed for between 15 seconds and 1 minute, which makes them similar to the shots used in the short films he made with with his wife.
In the third paragraph, the writer makes a reference to Mario Kart, a video game that Daniel played when he was young, which had pathways similar to his Rainbow Roads. They shot photos of their Rainbow Roads both in the U.S. state of Connecticut and in Guatemala, the Central American country. 
Summarizing is a useful skill for both speaking and writing. It is what you do when you share some information again using fewer words or different words than the original speaker or writer, as you see in this post. It also helps you to build vocabulary by learning synonyms and antonyms for the words you're using. A good language coach can help you learn to summarize effectively to improve your reading and writing skills.
---
At Artglish, we help artists and designers to describe their work with the best vocabulary and language possible. Every Thursday we study reviews and articles to share useful words and phrases to help you improve your reading and writing skills. If you want to learn more, click here to join The Studio and try some free ways to improve your English, or check out our Lessons page to learn how Artglish can help you succeed.
I've chosen 5 words or phrases for you to focus on today. They are in bold. If you don't know them, look up the meaning, synonyms, antonyms, and other forms of these words. You can find links to Merriam-Webster dictionary sites at the bottom of this page.
To read the original article (and more amazing photos), written by Laura Staugaitis on June 6, 2018, click the link below:
http://www.thisiscolossal.com/2018/06/rainbow-roads/

To learn more about the blue hour and other phases of sunlight, click the link below:
https://www.photopills.com/articles/understanding-golden-hour-blue-hour-and-twilights